It is all a Con Game to swindle the public out of their money, by making Trump Supporters believe that by making large Political Donations to Trump, they are "helping Veterans".


President Trump uses Television (mostly Fox News) to broadcast his Dishonest Political Rallies on television, while he also uses Radio, the Internet, E-Mails, and the U.S. Mail, all to swindle the Public with his lies about how great he treats Veterans, and to use his Veteran Con Game asking for donations, his donors believe are helping Veterans.

It should be noted that the Republician Party is a partner in this fraud with President Trump, and that together President Trump, and the Republican Party have reaped hundreds of millions of dollars by Fraudulently Claiming that "thanks to President Trump, Veterans have never had it so good".


With just the Trump Re-election Donations, President Trump, and the Republician Party, reaped over One Hundred and Five Million Dollars ($105,000,000.00) in Political Donations by fraudulently claiming they have made the lives of Veterans great. [Click here.]

It's sick for President Trump to brag, and swindle the public out of tens of Millions of Dollars in Political Donations, by lying and fraudulently claiming, Veterans have never had it so good, while President Trump;

1. Doesn't respond to letters from Disabled Veterans having problems with the Trump Administration.

2. While President Trump's Justice Department treats America's Disabled Veterans like they are "Less than Human and don't deserve even the most basic Human Rights, or Disability Rights", as Trump's Justice Department DISCRIMINATES against Disabled Veterans, and refuses to enforce their ADA Disability Rights.

3. VA Service Center Managers, VA Regional Directors, the General Counsel of the VA, and the Secretary of the VA, refuse to even respond to letters, and Complaints, from Disabled Veterans, and should Disabled Veterans provide Indisputable Evidence to those VA Officials proving that the VA has violated the law to defraud the Disabled Veteran out of benefits, those Named VA Officials STILL refuse to respond to the Veteran's Complaint as they cover-up the crimes, and misconduct by VA Officials, as they continue to knowingly, and intentionallt, cheat the Veteran.

4. There are no honest Upper-Level VA Officials, from the Service Center Manager to the Secretary of the VA, Upper-Lever VA Management are all crooks, and scumbags, and VA Officials are actually paid massive bonuses, as a reward for cheating Disabled Veterans.

5. While President Trump has packed the Department of Veterans Affairs with the most Despicable, Low-Life, Veteran-Hating, Political Crooks he could find. [Click here to read about President Trump's "friend" Peter O'Rourke who was paid four thousand dollars ($4,000.00) a week NOT TO WORK, or even show up in his office.]

6. And after President Trump appointed a Veteran-Hating, White Supremacist, "Sons of the Confederacy Leader", Robert Wilkie, as the Secretary of Veterans Affairs.

7. Research, and Gallup Polls show that Veterans have a much lower quality of life that active military, and civilians.

8. 37,800 Veterans are homeless, sleeping in the woods, under bridges, and on sidewalks in President Trump's America, eating out of garbage cans, and going hungry, with some starving.

9. VA Medical wait lists still exist at most VA Hospitals, killing Veterans.

10. Every day twenty-two (22) Veterans commit suicide because they cannot stand living in Trump's America.

Most of those Veterans are Older Vietnam Veterans that have been tortured by years of VA dishonesty, corruption, and years of Federal Crimes being committed against them by VA Officials, while the VA Inspector General covers up the VA's Crimes, and the Justice Department discriminates against Veterans, encouraging the abuse of Elderly Disabled Veterans.

Most of the recent Republician Party, and President Trump's Re-Election Donations, should go to Disabled Veterans harmed by the Trump Administration, like the donor intended.


Life for an Elderly, Disabled Vietnam Veteran in Trump's America is nothing less than torture, and President Trump, and the Republican Party, know they are intentionally lying, to defraud the Public out of Political Donations, when President Trump claims, at his massive Political Rallies that "Veterans have never had it so good".

For the Republican Party, and President Trump, lying and using America's Disabled Veterans to defraud the public out of massive amounts of Political Donations, has never been so good!

___________________________________________________________________________________

PRESIDENT TRUMP'S CORRUPT, RACIST,
VA SECRETARY ROBERT WILKIE


President Trump's VA Secretary, Robert Wilkie, idolizes Confederate President, Jefferson Davis, whom Robert Wilkie says "was a Martyr to the lost cause", and reveres Confederate General Robert E. Lee.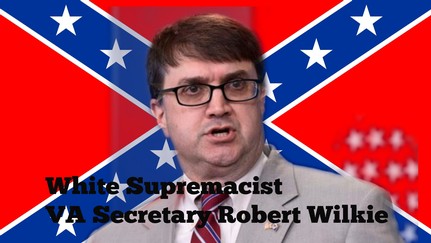 VA Secretary, Robert Wilkie, strongly supports slavery, publically saying that "abolitionists that opposed slavery were radical enemies of liberty".

Robert Wilkie made it clear that he hates Veterans, and only accepted the job as VA Secretary, as a stepping stone to a higher Military Job as head of the Pentagon.

That's his real goal.


President Trump went out of his way to appoint the very worst person he could find to be Secretary of the VA, to assure Disabled Veterans would continue to be cheated, and denied adequate medical care.

VA Secretary, Robert Wilkie, is not only a racist, but he is also a "Rich Kid Elitist" who believes that America's Disabled Veterans are far benieth him, and not deserving of benefits, so he refuses to respond to letters from lowly Disabled Veterans.

And when presented with indisputable evidence that the VA is cheating a Disabled Veteran, or committing crimes against a Disabled Veteran, Secretary Wilkie ignores the evidence, and continues cheating, and abusing the Veteran.

For President Trump to brag that "Veterans have never had it so good", to defraud the public out of Millions of Dollars in Political Donations, when Trump has made the Department of Veterans Affairs far more dishonest, and corrupt, than it has ever been, as his Administration drives Twenty-Two (22) Disabled Veterans to suicide each day, constitutes Wire Fraud, Mail Fraud, and Election Fraud.

___________________________________________________________________________