BACKGROUND OF WALMART CRIMINAL CONDUCT
And Walmart's Attacks on America's Disabled Veterans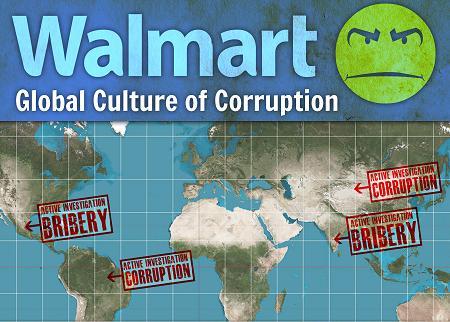 WORLDWIDE BIBERY AND CORRUPTION BY WALMART

Walmart paid the SEC $138,000,000 to settle charges of violating the Foreign Corrupt Practices Act by spreading Walmart Corruption all around the world.

Walmart then paid another $144,000,000 to settle charges with the United States Department of Justice for bribing countries all around the world to cover-up Walmart Corruption.


WALMART CORRUPTION IN THE UNITED STATES

In the United States Walmart avoids Criminal Investigations, and Charges, by using lobbyists to bribe the United States Congress, and Senate, bribing Federal, and State Judges, and bribing State Governors, State Attorney Generals, State Congresspersons, and Senators.

Walmart's Bribery appears to have even reached into the United States Supreme Court, which let Walmart get by with mass discrimination against One, and a Half, Million of Walmart's Female Employees by basically saying that Walmart is too big to sue, and therefore is above the law.


WALMART CORRUPTION IN FLORIDA

In Florida Walmart OWNS Florida Law Enforcement, from the Governor's Office, and Florida Attorney General, to Local Police Departments, and Sheriffs.