America's Veterans Are Abused, Tortured, and Mistreated,
More than Any Race, Religion, or People on Earth!
To Help Veterans Everything on this Website May Be Freely Copied, Reprinted, Published and Used by Any Means.
___________________________________________________________________________________________________


WHERE IS THIS "
GREAT TREATMENT
" FOR VETERANS PRESIDENT TRUMP PROMISED ?
President Trump promised that he was going to "
take good care of America's Veterans
".
Why isn't he keeping that promise?
The life of Older Disabled Veterans in America is far beyond horrible. It's pure torture!
Disabled Veterans Can't Support their Families!
A 100% Service-Connected Disabled Veteran, completely unable to work because of his Service to this Country in Combat, gets
less than half the pay
an E-1 Private gets who just entered the Army makes.
Less than what a kid manager working at McDonalds gets paid!
Today's Military gets their Regular Pay,
plus
a Food Allowance, a Clothing Allowance, a Moving Allowance, a Seperation Allowance, and a Cost of Living Allowance, among many other benefits.
Disabled Veterans that fall in battle defending this country often have far more bills, because of their disabilities, and yet they have not seen a real "
Cost of Living
", or "
Pay Increase
" in Twenty Years.
Most Disabled Veterans have a Mortgage, Car Payments, Insurance Bills, Electric Bills, Water Bills, Cable TV, and Internet Bills, Clothing, Food, Gas, and often many bills for their Service Disabilities that the VA does not cover, plus usually a wife, and sometimes children to support, all on less than what a kid makes at McDonalds, and with far less benefits.
At least the kid able to work at McDonalds gets pay raises. America's Disabled Veterans don't know what a Pay Raise is!
Unlimited Money for Our Troops....Nothing for America's Disabled Veterans!
More
__________________________________________
FLORIDA ATTORNEY GENERAL
DENIES DISABLED VETERANS ANY RIGHTS!
In Florida Disabled Combat Veterans needing a Service Animal may not sit on a beach and enjoy the sunset.
Disabled Veterans in Florida, needing a Service Animal, may not eat in a resturant, or shop in a store like Walmart, or Publix.
And should the Disabled Veteran complain Florida Law Enforcement will surround the Disabled Veteran, tell him that Florida does not go by the Americans with Disabilities Act, and that Florida does not accept, or enforce, any laws protecting the rights of the disabled, as they harass the Disabled Veteran, call him names, and intiminate him, surrounding the Disabled Veteran and implying that the Police are going to gang-jump the Disabled Veteran.
This is the life of America's Disabled Combat Veterans underFlorida's Chief Law Enforcement Officer Pam Bondi. More
__________________________________________
WALMART'S WAR AGAINST DISABLED VETERANS!
Walmart is known for abuse of its employees, most of whom are treated like slaves, and paid so poorly that they need Food Stamps to survive.

What is not so well known is how Walmart uses Local Law Enforcement across America as Walmart's Private Police Force, stealing your Tax Dollars, by using Taxpayers to pay for Walmart's Security, to increase Walmart's Profits.

All while Walmart corrupts the Local Law Enforcement, using them to discriminate against, and abuse the Disabled, targeting America's Disabled Veterans.

s has a long, well-documented history, of discriminating against America's Disabled Veterans, abusing them, violating their rights, and trying to intentionally inflict massive harm on America's Disabled Veterans, while they also donate to Veterans Groups, for Tax Purposes, and to get favorable news media coverage.

Lets look as some of Walmart's intentional crimes towards America's Veterans.

Click here to read about a Disabled Veteran doing an outstanding job at Walmart as a Forklift Driver, who was Discriminated Against, and fired, because he was unable to do another employee's job.

Walmart Corporate set a Policy that United States Marine Veterans can bleed, and die, but never will they be allowed inside (Walmart). Click here to read News Article.

The

Durring the Vietnam War the poor, and working class, were drafted, and went to war, while the rich, and privledged class, hid in college.

It is the rich, and Silver-Spooned Privledge Class, that ended up becoming America's Politicans, Attorneys, and Judges resenting those that did serve in the Military, providing the Freedoms the Privledged refused to fight for.

In college the Privledged believed Military Service to be benieth them, and considered those that served in the Miltary to be losers.
__________________________________________
U S DISTRICT COURT JUDGE, MARK E. WALKER, ABOLISHES THE UNITED STATES CONSTITUTION FOR DISABLED VETERANS!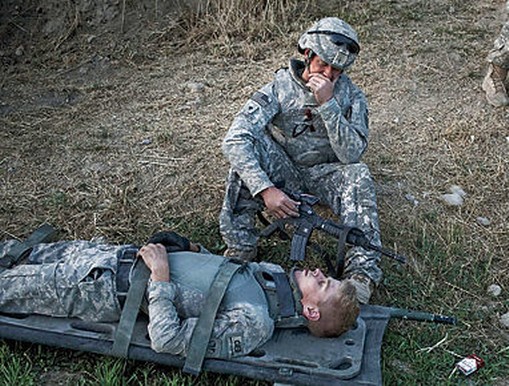 UNDERSTANDING THE VETERAN AND MILITARY HATE

There is a strong Anti-America, Anti-Veteran, and Anti-Military, Hate Movement in America, especally in America's Universities, in our government, in America's Legal System, and especally in the Federal Courts.

University Students with the Zeta Beta Tau Fraternity at Panama City Beach in Florida tore down American Flags, as they spit, and urinated, on Disabled Veterans, and their Service Animals, poured beer on Disabled Veterans, and knocked them out of their wheelchairs.

A substantial number of America's Attorneys, State Judges, and Federal Judges belong to the Zeta Beta Tau Fraternity.

This segment of our society, composed of the rich, the powerful, the eliet, and "Special Interests" believe they are far above serving in the military, and that anyone that does serve is far benieth them.

They believe they are better than those that serve in the military, and that America's Veterans are far beenieth them, and not deserving of the freedoms, and benefits, the eliet deserve, because of their power, and wealth.

This Military Family, and Veteran Hate, appears to be restricted to those born with silver spoons in their mouths, and those with excessive power. Sports stars that worked their way to the top are just the opposatine, and are extremely patriotic.

After 911 NFL Players like Pat Tillman, Joe Cardona, Nate Boyer, Ahmard Hall, Jeremy Staat, Alejandro Villanueva, and Daniel Rodriguez gave up mulimillion dollars Contracts, and bright Sports Star Futures, to enlist in the Military, and put their lives on the line for our Country.

When America was attacked on 911 many Sports Stars, like This movement is composed of College As a Severely Disabled Vietnam Veteran I remember living in the woods, and sleeping in the snow, freezing, in Lexington, Kentucky.